Wayne - Elementary School
I went to Garrett Park Elementary for Kindergarden and then to Wyngate Elementary through sixth grade, with the exception of fifth grade, which was spent in Japan. The trip to Japan, for the 1961-62 school year, was the most memorable event in these years. It's hard to believe now, but we went to Japan from California on an ocean liner, the S.S. President Cleveland. Even then, this was pretty unusual, and these ships were soon completely replaced by planes. In Japan, we went to the Canadian Academy, an English-language school in Kobe, while my father did research at the University of Osaka. We managed to do a lot of sightseeing and met a lot of relatives. We came back to the U. S. the long way around (flying this time) stopping in Hong Kong, Thailand, India, Iran, Egypt, Turkey, Greece, Italy, and Spain.
Our house in Japan.
From left: Wayne, Glenn, David.

Behind: Japanese friend.
Front (from left): Wayne, David, Glenn.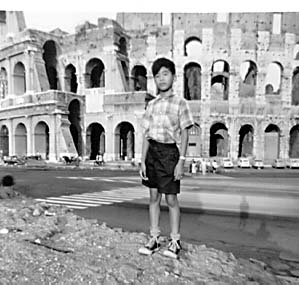 Me at the Colosseum, Rome, 1962
Next - Junior and Senior High School
---

Back to Itano family home page
---
Last modified: September 10, 2000. Send comments to webmaster@itano.net
---