Wayne - After the Ph.D.
In January 1979, I moved to Boulder, Colorado, where I still live. I began as a post-doc at the National Bureau of Standards, and got a permanent position in late 1980. Chris and I met in 1982 and got married in 1983. This period of my life is covered elsewhere in the website, especially on my main personal page, so I'll just show a few pictures and leave it at that for now. You can follow us as we age year by year on our yearly holiday greeting card photos.
Chris and I met on the Japanese American Community Graduation Program Committee, which organizes a banquet and scholarship awards ceremony each year for graduating high school seniors of Japanese ancestry in the greater Denver area. I'm the first one on the left in the front row. Chris is seated behind me in the next row.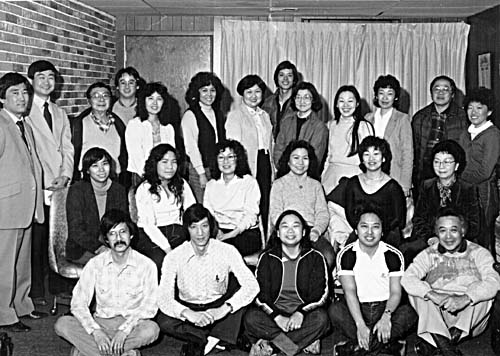 Japanese American Community Graduation Program Committee, 1983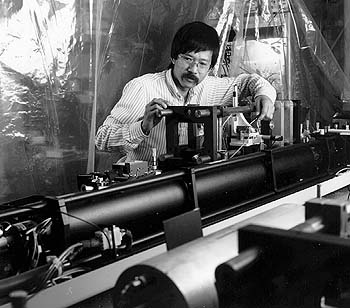 Above is a bogus publicity photo showing me tweaking the settings of the frequency-doubling cavity for the mercury ion clock experiment. At least they didn't put me in a white lab coat like the picture that is in the lobby of the main Boulder NIST building.
| | |
| --- | --- |
| With Nicole | With Michelle (8 months) |
Back to Wayne's page
---

Back to Itano family home page
---
Last modified: May 26, 2001. Send comments to webmaster@itano.net
---