Itano Monument at Fukutani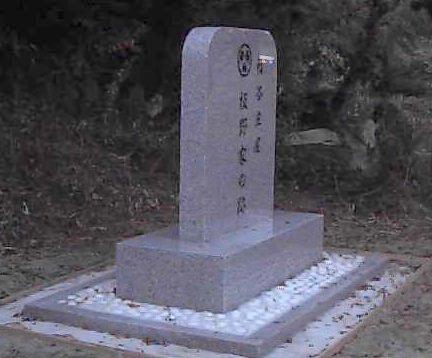 In 1997, a monument was erected at Fukutani, on the site of the Itano family house. On the front is the Itano family mon (crest) and inscriptions reading "Site of the house of Itano" and, on the right, "Fukutani shohya," which translates as "Fukutani village headman." On the back is an inscription:
"It is said that in the Bunroku era (1592-1596) Itano Sakon came from Itano-gun (Itano district) of Awa-no-kuni (province of Awa, now Tokushima-ken) to this land. Successive generations served as shohya (village headman). Fifty meters south of here is the grave of Sakon; 200 meters northwest are the graves of succeeding generations. The eldest son of Itano Tomotaroh of the twelfth generation, Itano Masao, emigrated to the U.S.A. in 1906. His descendants reside in the U.S.A. In 1955 Masao transferred this land to his niece's child, Yokoyama Toshiko (maiden name Itano), and entrusted her with the ancestral graves and with the maintenance and supervision of these graves for many years to come.
The fourteenth generation. Eldest son Itano Akio. Second son Itano Tsuyoshi. Eldest daughter Tanaka Kazue. Third son Itano Masashi.
1997 September kichinichi." (Photos courtesy of Dr. Kazuhiro Hirota.)
Click on the small pictures below to see larger versions.
---

Back to Itano family home page
---
Last modified: May 26, 2001. Send comments to webmaster@itano.net
---