---
Reprinted from the Boulder Daily Camera, November 21, 1989
---
5-year-old's big love is touring factories
Parents help Michelle pursue her curiosity. And at bedtime, she wants stories about --- yep, factories.
By KATE OBERLANDER For the Camera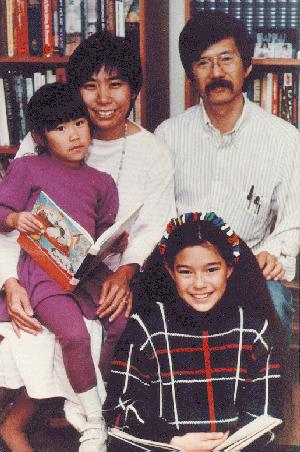 CLIFF GRASSMICK / Daily Camera
CURIOUS KIDS: The Itano family -- factory-loving Michelle on lap of mother Chris, father Wayne, and 11-year-old Nicole, foreground. Nicole liked factories when younger, but now prefers chemistry and behavioral science.
While most 5-year-olds prefer going to the zoo, Michelle Itano would rather tour a factory.
A Boulder kindergartner, Michelle has developed a fascination with the manufacturing process. Her mother, Christine Itano, said Michelle watched a program on the Disney Channel about how crayons are made, and since then has had an insatiable curiosity about the process that goes into making just about everything.
Michelle and her family recently toured the Adolf Coors Co.'s brewery in Golden. "Michelle liked the packaging the best," said her father, Wayne Itano, an atomic physicist at Boulder's National Bureau of Standards.
He said Michelle often asks him to read sections of the encyclopedia to her for a bedtime story. "She wants me to go through the books and find things about factories," he said.
Mrs. Itano has looked for children's books that describe how things are made, but hasn't had much luck. "There are lots of books on how things work," said Mrs. Itano, an associate professor in the University of Colorado's communication disorders department," but not on how they're made."
She and her husband have also had trouble finding manufacturing companies in the area that offer public tours.
The Itanos have taken Michelle and her sister, 11-year-old Nicole, to museums across the country, and have begun to incorporate factory tours into family vacations.
On a trip to the Northwest this summer, the Itanos went to the Pendleton Woolen Mills in Pendleton, Ore. There, Michelle was mesmerized with the large weaving machines used to make colorful American Indian blankets.
"She's really interested in mechanization, in the industrial aspects," Mrs. Itano said.
Michelle's parents said one of the highlights of Michelle's year was visiting the factory where her grandfather, Ben Yoshinaga, is an executive vice president. American Desk Manufacturing Co. Inc., in Temple, Texas, makes school and industrial furniture. The company also manufactured the seating for Fiddler's Green Amphitheater in Denver.
At the desk company, Michelle was intrigued with the injection molding process used in making plastic chairs. "She really liked watching pipes going in round and coming out square," Nicole said, referring to the process of making metal legs for desks.
Nicole said she liked factories when she was Michelle's age, but now is more interested in chemistry and behavioral sciences.
Mrs. Itano attributes some of her children's natural curiosity to family interests. "There are a lot of scientists in the family," she said.
Mr. Itano's father, Harvey Itano, is a molecular biologist, who has done extensive work with sickle-cell anemia. The girls' uncle, David Itano, is a marine biologist.
Is Michelle going to be the next Iacocca? No, she wants to be a doctor when she grows up.
---

Back to Itano family home page
---
Last modified: August 19,1997. Send comments to webmaster@itano.net
---