---
Reprinted from the Rocky Mountain Jiho, Vol. 36, No. 43, March 25, 1998.
---
Michelle Itano Finalist at Science Fair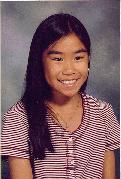 Michelle Itano was voted a regional finalist for her science project on meteor detection at the Secondary School Science Fair at Broomfield Middle School this month.
Michelle is a thirteen-year-old eighth grader at Southern Hills Middle School, but she is by no means your ordinary teenager. Not only is she a finalist for the science fair, but she has received special honors such as an award from the National Oceanic and Atmospheric Administration and the McDonald's 2000 Physical Science Award.
Michelle's project detects meteors and meteor showers by using an FM radio. "First you find a blank station and get a good antenna. When a meteor passes through the upper atmosphere, the atoms separate and the electrons reflect back a radio signal from the Earth. I detected a radio signal that showed that there was a meteor," explains Michelle.
Michelle loves science, particularly astronomy and biology. She credits her parents (both of whom are scientists) for her interest in science. Her father, Wayne Itano, is a physicist at the National Institute of Standards and Technology, and her mother, Christine Yoshinaga-Itano, is a professor and department chair at the University of Colorado's Department of Speech, Language, and Hearing Sciences Department.
Michelle will be taking her science project to the state fair, which will be held April 10 at Colorado State University in Ft. Collins. Other finalists include Benjamin Howard of Southern Hills Middle School and Daniel Kantor of Centennial Middle School.
N. H.
---

Back to Itano family home page
---
Last modified: August 14, 1998. Send comments to webmaster@itano.net
---