---
Reprinted from the Astronautics News, June 16, 1997, Number 13, published by Lockheed Martin Astronautics
---
Astronautics employees' kids to attend Space Academy
by Kristin Nelson, Communications intern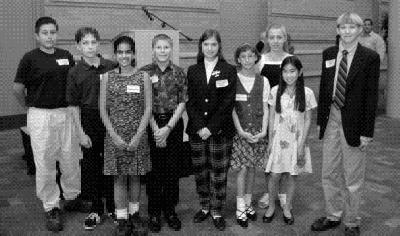 Michelle Itano is second from right.
Imagine being blasted into space at the age of 13. Four children of Astronautics employees will get the opportunity to experience this when they attend Space Academy later this summer.
The Space Academy attendees are Heather Doty, daughter of Paul Doty, Atlas Program Planning; John Janczy, son of John R. Janczy, Defense Systems; Rachna Tiwari, daughter of Shashi Tiwari, Titan Launch and Dynamics; and Christopher Wessels, son of Bob Wessels, Special Programs.
Astronautics sponsored the contest and awarded the four middle school students with all-expense paid trips to attend Space Academy at the U.S. Space and Rocket Center in Huntsville, Ala., July 20-25. The students were chosen on the basis of an essay, community service activities and their interest in space exploration and engineering.
Each student was asked to document 20 hours of community service to qualify for the scholarship. Services performed by the award winners include sewing a baby quilt for a local hospital, working in local churches, volunteering at daycare centers, shoveling snow for neighbors and teaching computer classes.
Other local students who have excelled in space related fields of study also were awarded scholarships to the Academy by Astronautics. Amanda Engle received a scholarship for her work representing Dunstan Middle School's Science Olympiad Team. Michelle Itano won a sponsorship for her science exhibit at the Colorado State Science and Engineering Fair.
Three students participating in the Colorado Minority Engineering Association/Mathematics Engineering Science Achievement program at their schools were awarded scholarships to Space Academy and were recognized in a recent issue of Astronautics News.
All the award winners attended the preview screening of the new IMAX film, Mission to Mir, on May 27, at the Denver Museum of Natural History. Linda Shahan, Astronautics Communications director, recognized each of the students and commended their achievements during a reception at the museum.
This is the sixth year Astronautics has provided Space Academy scholarships as part of the company's educational outreach program.
---

Back to Itano family home page
---
Last modified: August 20,1997. Send comments to webmaster@itano.net
---